Percy Jackson: The Complete Series (Omnibus)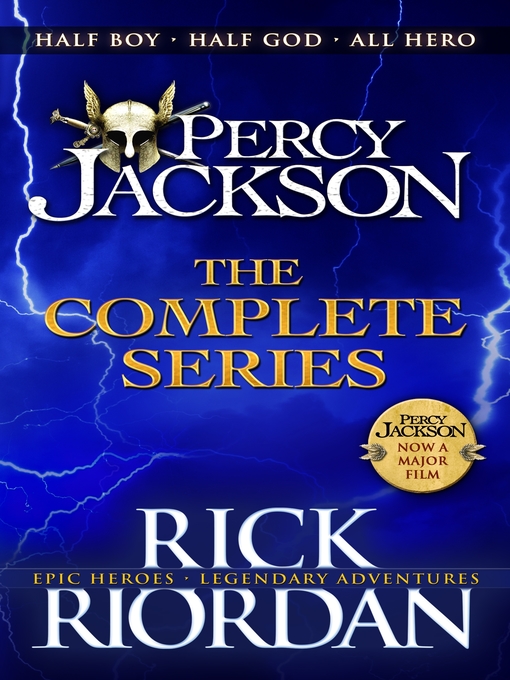 All five novels in the bestselling, blockbuster Percy Jackson series, collected in one stunning digital edition.
Percy Jackson: The Complete Series includes all five novels in the action-packed, electrifying series from Rick Riordan: The Lightning Thief, The Sea of Monsters, The Titan's Curse, The Battle of the Labyrinth, and The Last Olympian.
RATING: ★★★★☆ (4.56 out of 5)
97% of 1,872,268 people liked it
Percy Jackson and the Sword of Hades (Percy Jackson and the Olympians #4.5)
The goddess Persephone has summoned Percy, Thalia and Nico to the Underworld in order to retrieve Hades' powerful sword before it falls into the wrong hands. Easier said than done in a world full of evil daimons, ghosts and ghouls. Not to mention Iapetos - brother of the powerful Titan lord, Kronos. This time the young demigods are really up against it - will Percy manage to return the sword before it's too late? Flip the book over for lots more ancient Greek fun with Terry Deary's brilliant Groovy Greeks: It's history with the nasty bits left in! Want to know: Why some groovy Greek girls ran about naked pretending to be bears? Who had the world's first flushing toilet? Why dedicated doctors tasted their patients' ear wax? Discover all the foul facts about the Groovy Greeks - all the gore and more!
RATING: ★★★★☆ (4.25 out of 5)
95% of 6,479 people liked it
Percy Jackson and the Singer of Apollo (Percy Jackson and the Olympians #5.5)
A short story involving our favorite satyr Grover Underwood, Percy Jackson, and the Lord Apollo!
This is a new short story written by Rick Riordan, set after the 5th book in the Percy Jackson series, THE LAST OLYMPIAN.
This story is set BEFORE the Heroes of Olympus series by the same author.
RATING: ★★★★☆ (4.31 out of 5)
95% of 549 people liked it