Splintered (Splintered #1)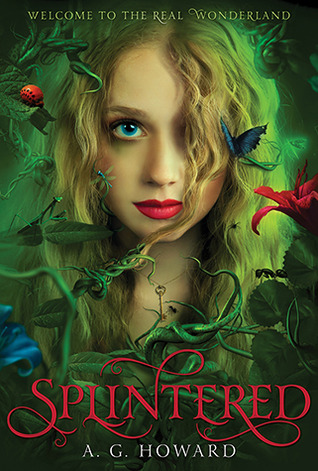 This stunning debut captures the grotesque madness of a mystical under-land, as well as a girl's pangs of first love and independence. Alyssa Gardner hears the whispers of bugs and flowers—precisely the affliction that landed her mother in a mental hospital years before. This family curse stretches back to her ancestor Alice Liddell, the real-life inspiration for Lewis Carroll's
Alice's Adventures in Wonderland
. Alyssa might be crazy, but she manages to keep it together. For now.
When her mother's mental health takes a turn for the worse, Alyssa learns that what she thought was fiction is based in terrifying reality. The real Wonderland is a place far darker and more twisted than Lewis Carroll ever let on. There, Alyssa must pass a series of tests, including draining an ocean of Alice's tears, waking the slumbering tea party, and subduing a vicious bandersnatch, to fix Alice's mistakes and save her family. She must also decide whom to trust: Jeb, her gorgeous best friend and secret crush, or the sexy but suspicious Morpheus, her guide through Wonderland, who may have dark motives of his own.
RATING: ★★★★☆ (4.01 out of 5)
90% of 12,399 people liked it
The Moth in the Mirror (Splintered #1.5)
An original ebook-only novella in the Splintered series, told from the points of view of both Jeb and Morpheus. Morpheus wants to know more about his rival for Alyssa's affections, so he digs into Jeb's memories of his time in Wonderland. But he may be surprised by what he finds.
This brand-new story and perspective from A.G. Howard's dark, magical world stands alone, but also provides a tantalizing glimpse of what's to come in Unhinged, the sequel to Splintered.
RATING: ★★★★☆ (4.02 out of 5)
96% of 783 people liked it
Unhinged (Splintered #2)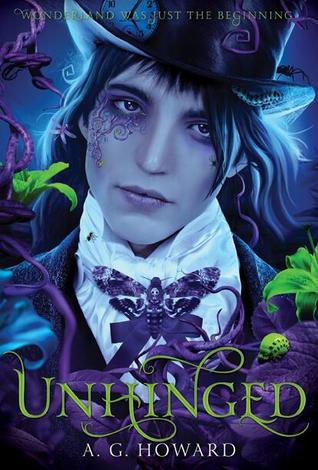 Alyssa Gardner has been down the rabbit hole and faced the bandersnatch. She saved the life of Jeb, the guy she loves, and escaped the machinations of the disturbingly seductive Morpheus and the vindictive Queen Red. Now all she has to do is graduate high school and make it through prom so she can attend the prestigious art school in London she's always dreamed of.
That would be easier without her mother, freshly released from an asylum, acting overly protective and suspicious. And it would be much simpler if the mysterious Morpheus didn't show up for school one day to tempt her with another dangerous quest in the dark, challenging Wonderland—where she (partly) belongs.
As prom and graduation creep closer, Alyssa juggles Morpheus's unsettling presence in her real world with trying to tell Jeb the truth about a past he's forgotten. Glimpses of Wonderland start to bleed through her art and into her world in very disturbing ways, and Morpheus warns that Queen Red won't be far behind.
If Alyssa stays in the human realm, she could endanger Jeb, her parents, and everyone she loves. But if she steps through the rabbit hole again, she'll face a deadly battle that could cost more than just her head.
RATING: ★★★☆☆ (4.36 out of 5)
95% of 2,489 people liked it
Mirror links:
Splintered series EPUB
|
Splintered series PDF