The Psy-Changeling Collection (Psy-Changeling #1-10)
Two of the strongest Changeling packs in North America are the DarkRiver Leopards, controlling the San Francisco area, and the SnowDancer Wolf Pack, in control of the rest of California. The icy and emotionless Psy are under the control of a powerful council of seven beings with very different goals. And some of the humans, often thought to be the weakest of the three races, have decided to level the playing field.
Contains the first 10 books in the series:
Slave to Sensation,
Visions of Heat,
Caressed by Ice,
Mine to Possess,
Hostage to Pleasure,
Branded by Fire,
Blaze of Memory,
Bonds of Justice,
Play of Passion,
Kiss of Snow.
RATING: ★★★★☆ (4.79 out of 5)
100% of 186 people liked it
Wild Invitation (Psy-Changeling #0.5, #3.5, #9.5, #10.5)
In
Beat of Temptation
, innocent Tamsyn has always had a place in her heart for Nathan, a blooded DarkRiver sentinel. But is she ready for the fierce demands of the mating bond?
In
Stroke of Enticement
, a wary young teacher, skeptical about love, arouses the man—and the animal—in an aggressive leopard changeling who must prove his affections are true.
Plus 2 NEVER BEFORE PUBLISHED NOVELLAS
In
Declaration of Courtship
, Grace, a shy submissive wolf, finds herself pursued by the last man she ever would have imagined: a SnowDancer lieutenant said to be "mad, bad, and dangerous to know."
In
Texture of Intimacy
, SnowDancer healer Lara discovers the searing joys—and unexpected challenges—of being mated to quiet, powerful Walker, a man used to keeping his silence.
RATING: ★★★★☆ (4.26 out of 5)
100% of 157,090 people liked it
Whisper of Sin (Psy-Changeling #0.6)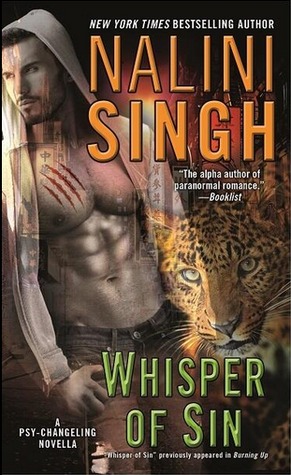 San Francisco is under threat from a violent gang…a gang that has no idea who they're challenging. The DarkRiver pack of leopard changelings has already claimed the city as their territory, and they will fight with wild fury to protect its residents. Emmett, a lethally trained leopard soldier, isn't about to let outsiders muscle in on his home ground—especially when they target a human named Ria.
Emmett has one word for the smart stranger with her curvy body and tough spirit: mine.
Possessive, dominant, unyielding in his demands and desires, Emmett is unlike anyone Ria has ever before met. But while the sexy leopard changeling makes her body ignite, his kisses molten and his touch addicting, she's no pushover and she has a few demands of her own. This leopard has met his match…
RATING: ★★★★☆ (4.17 out of 5)
96% of 676 people liked it
Psy-Changeling Deleted Stories (#0.7, #0.8, #1.6, #3.4, #10.1, #10.2, #10.3)
Includes:
Beat of Temptation Scene 1 (Psy-Changeling #0.7)
Beat of Temptation Scene 2 (Psy-Changeling #0.8)
The Shower (Psy-Changeling #1.6)
Miss Leozandra's (Psy-Changeling #3.4)
The Party (Psy-Changeling #6.6)
Brenna and Judd (Psy-Changeling #10.1)
Walker and Laura (Psy-Changeling #10.2)
Sienna Ambushed by Drew (Psy-Changeling #10.3)

PARAGRAPH2
Psy-Changeling Short Stories (#1.5, #4.5, #5.5, #6.5, #7.5, #9.1, #9.2)
Includes:
The Cannibal Princess (Psy-Changeling #1.5)
A Conversation (Psy-Changeling #4.5)
A Gift for Kit (Psy-Changeling #5.5)
Movie Night (Psy-Changeling #6.5)
Christmas in the Kitchen (Psy-Changeling #7.5)
Wolf School (Psy-Changeling #9.1)
Clean & Dirty (Psy-Changeling #9.2) Stalking Hawke (Psy-Changeling #10.7)
Sunday Morning (Psy-Changeling #8.5)
Short story featuring Max & Sophie.
RATING: ★★★★☆ (4.02 out of 5)
96% of 155 people liked it
Dancing With Cooper (Psy-Changeling #9.6)
This Short Story is a bonus Epilogue to Declaration of Courtship and occurs during Tangle of Need, the eleventh book in the Psy-Changeling series.
RATING: ★★★★☆ (4.16 out of 5)
100% of 171 people liked it
Marlee Talking To Walker (Psy-Changeling #10.6)
Author's note: This conversation is from one of my earlier drafts of Kiss of Snow. Because of changes in the ensuing drafts, it doesn't slot neatly into a particular chapter. However, as you'll see, a certain aspect of this scene did make it into the book in the form of the conversation Lara has with Marlee in chapter 48.
RATING: ★★★★☆ (4.33 out of 5)
100% of 6 people liked it
Pancakes (Psy-Changeling #10.9)
Timeline: A shorter version of this story was originally a scene in "Texture of Intimacy" and features SnowDancer healer Lara and her Psy mate Walker.
RATING: ★★★★☆ (4.00 out of 5)
98% of 86 people liked it
Tangle of Need (Psy-Changeling #11)
Adria, wolf changeling and resilient soldier, has made a break with the past—one as unpredictable in love as it was in war. Now comes a new territory, and a devastating new complication: Riaz, a SnowDancer lieutenant already sworn to a desperate woman who belongs to another.
For Riaz, the primal attraction he feels for Adria is a staggering betrayal. For Adria, his dangerous lone-wolf appeal is beyond sexual. It consumes her. It terrifies her. It threatens to undermine everything she has built of her new life. But fighting their wild compulsion toward one another proves a losing battle.
Their coming together is an inferno…and a melding of two wounded souls who promise each other no commitment, no ties, no bonds. Only pleasure. Too late, they realize that they have more to lose than they ever imagined. Drawn into a cataclysmic Psy war that may alter the fate of the world itself, they must make a decision that might just break them both.
RATING: ★★★☆☆ (4.14 out of 5)
96% of 8,356 people liked it
Making Dinner (Psy-Changeling #11.4)
RATING: ★★★★☆ (4.21 out of 5)
98% of 147 people liked it
Poker Night (Psy-Changeling #11.5)
For those of you unfamiliar with this series, this story features the DarkRiver Leopards (Alpha: Lucas) and the SnowDancer wolves (Alpha: Hawke). The narrator is Nate, the most senior sentinel in the DarkRiver pack.
RATING: ★★★★☆ (4.24 out of 5)
100% of 648 people liked it
Heart of Obsidian (Psy-Changeling #12)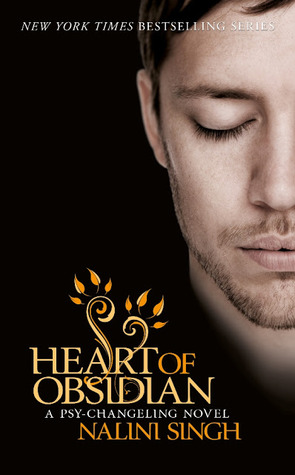 A dangerous, volatile rebel, hands stained bloodred.
A woman whose very existence has been erased.
A love story so dark, it may shatter the world itself.
A deadly price that must be paid.
The day of reckoning is here.
From "the alpha author of paranormal romance" (Booklist) comes the most highly anticipated novel of her career—one that blurs the line between madness and genius, between subjugation and liberation, between the living and the dead.
RATING: ★★★★☆ (4.53 out of 5)
99% of 6,769 people liked it
Mirror link:
Psy-Changeling series EPUB